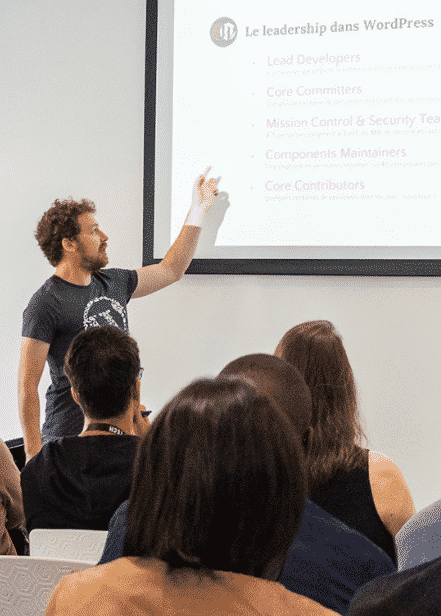 Chief Technical Officer at Whodunit, I'm managing design/conception phase of each project, I'm coordinating the work of our technical team and I'm more generally making the technical choices of the agency. I'm also running the website maintainance services provided by Whodunit.
Web Developer and passionated contributor of WordPress ecosystem, I really care about web standards and accessibility. Deeply involved in the community, I contribute to WordPress by being the first french Core Developer of the CMS, I co-led minor WordPress releases 4.9.5, 5.0.3, 5.2.2, 5.3.1, 5.3.2, 5.4.1 and I co-led WordPress 5.3 "Kirk" as Accessibility Focus Lead and WP 5.4 "Adderley" as Documentation Focus Lead.
I'm also the maintainer of Widgets and Menus components. I'm currently working on plugins and themes auto-updates, milestoned for WP 5.5.
I'm one of the WordPress Accessibility Team Representatives since September 2018.
I'm a plugin author, I'm one of the French General Translation Editors (GTE), I'm a regular event speaker, I coordinate WP Drôme-Ardèche local meetup, I co-organized WordCamp Paris 2019 and WordPress Translation Days 2017 and 2019.
All my WordPress contributions are listed on this page.
Years ago, I was a teacher in some private schools in Geneva or Lyon, then as an associate professor at Grenoble University.
Last but not least:
I'm 35 years old, I share my life with the lead Theme Developer of Whodunit WordPress Agency where we are both working remotely from our loving Ardèche county ♥️
Heading illustration: WordPress Halloween Pumpkin made by myself for Halloween 2018
Available under Creative Commons license, please link this page if you want to use it.
Last tweets: